Air Conditioner Installation Services

Premium AC Installation & Replacement Services

in Pickerington, OH
Are you thinking about replacing your air conditioning system, or having new, more efficient, equipment installed? With so much information out there these days with the Internet and so many HVAC companies offering different prices and making different types of recommendations, it's easy to get lost in all of it.
We recommend seeking a reputable licensed HVAC system installer to handle your intricate AC installation. Retaining an established, reputable, reasonably-priced company like LRF Maintenance, Heating & Cooling, a company that is well established, carries premium products, understands its customers, and has a long documented history of customer satisfaction will put your mind at ease because you will know you are in good hands and you are doing it the right way.
If you are trying to find a superior, trustworthy and affordable AC contractor to replace your AC system, you need to look no further. To hear about our wide selection of HVAC services and superior top-notch products, call us today to schedule an appointment, or simply click here to start the process now online!
Should I Repair or Replace My A/C?
We have a general rule of thumb in our industry. When an air conditioner gets to about 10 to 15 years old, it's a good time to start to think about replacing it. Keep in mind this is an average number. The actual or precise number of years your A/C will operate depends on a variety of factors, like how well it was initially installed, how well repairs have been handled over the years and how often those repairs have been necessary. The most important factor affecting the lifespan of an A/C, and any HVAC system for that matter, is how well it was maintained over the years. Air conditioners that have been maintained consistently each year consistently outlast those that were not.
Having said that, if you are noticing any of the signs we outline below, you should have one of our professional A/C technicians come look at your system. The following are signs you might need a new unit, or at the very least some sort of repair:
Are your coils freezing up?
Is your AC making unusual sounds?
Do you have any moisture leakage?
Is there any oily residue on the parts?
Is there any inconsistency in cooling levels?
Are your energy bills increasing during the summer?
Has your thermostat been reading lower than the actual temperature?
A/C Replacement Services in Pickerington, OH
New System Equals Energy Savings
When an air conditioning system is more than a few years old, it takes more energy to keep it running, which adds up in additional energy costs over time. The difference is so much, in fact, that many homeowners find it shocking. Often, this is why upgrading an out-dated model AC with a newer high-efficiency system can reduce your monthly cooling costs by up to half of what you've been paying. In situations like these, the new equipment quickly "pays for itself" over a short period of time. In the meantime, while the high-efficiency system is paying for itself, the new owner gets to enjoy the perks of superior temperature control, and a much "cooler" and smoother running system.
As part of any new AC system installation, we are mindful to guarantee your new AC (or heat pump) has the correct S.E.E.R. rating and output to ensure it's the perfect fit for your home's exact size. This way you will never again have to pay for costly energy inefficiencies.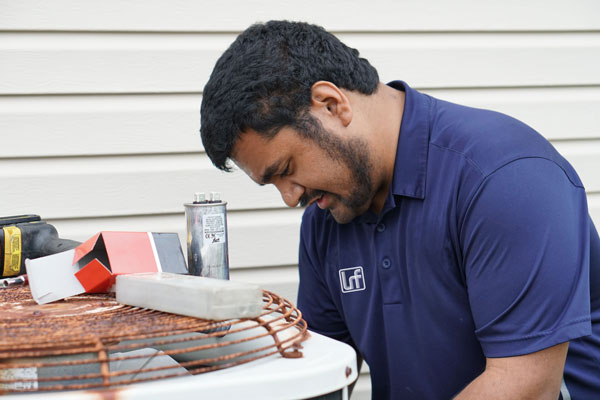 Furnace Installation Services in Pickerington, OH
Our Installations are Quick & Easy.
On average, it only takes us a day to install a new system.
We start by carefully removing your old furnace and properly disposing of it. After that, we install a brand new system. Depending on what all you are purchasing with the new system, the next step is to put in all those additional parts — these are usually add-ons like maybe a smart thermostat, a humidifier, a dehumidifier, perhaps some UV lights or an iWave-R to keep your air quality clean. Lastly, we reconnect the ductwork, calibrate the new unit's controls, and perform tests to ensure everything is 100% in prime working order. Once we have determined that everything is functioning precisely as it should, we walk you through showing you everything we did, showing you how to use the new equipment, and making sure you're 100% happy with everything and you understand how to operate it.
We Service All HVAC Brands
The technicians at LRF Maintenance are NATE-Certified and highly-skilled, with over 45 years of hands-on industry experience. Over time, we've discovered that there's not a single HVAC manufacturer that we can't service! No matter the age, make or model of your heating or cooling system, rest assured we can repair, service, or replace your system swiftly and hassle-free. We're confident in our skills, so you should be too.
Get the Ball Rolling. Schedule Today!
We believe we have made scheduling air conditioner installation or replacement as quick and convenient as possible. To make matters even more convenient, we schedule visits in three-hour block windows and have our service technicians call each customer when they are on their way with an ETA. So if you want to get the process started now, click here to schedule online, or call us at (614) 837-4822. We'll get your cooling system up and running in no-time!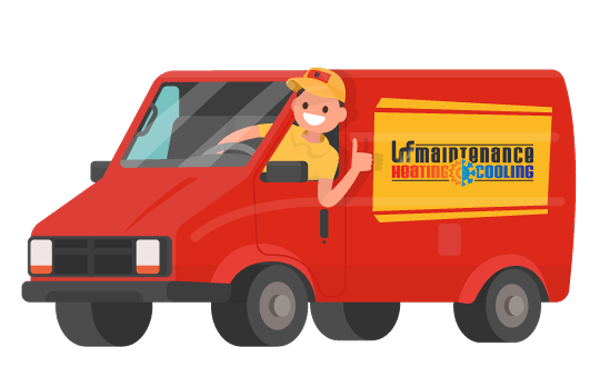 Need Emergency Services?
At LRF, we're committed to customer satisfaction. That's why we're available on nights, weekends, and even holidays for emergency repairs.