Air Conditioner Maintenance Services

Premium AC Maintenance Services

in Pickerington, OH
 It doesn't matter to us whether it's during the middle of the night, during a weekend, or even on a holiday —we are ever ready to come out to your home to perform an emergency AC repair. We are always a quick phone call away.
However, having said that — for your own benefit, well-being, budget, and comfort — we should also mention that we would rather come over to perform preventative maintenance on your home cooling system before summer is in full swing to prevent the problem in the first place.
Taking advantage of our affordable and cost-effective, seasonal A/C maintenance service has a ton of benefits, among them, being this the best way to avoid the need for emergency repairs and problems that can be extremely expensive headaches.
As part of this service, the AC technicians at LRF Maintenance, Heating & Cooling look for all the things that could cause problems during the summer. They are trained to check your AC refrigerant levels and refrigerant lines, your system's controls, belts, motors, compressors, air filters, drainage lines, electrical wiring and terminals, fans, connectors, and much more. After an extensive analysis, they can replace damaged or broken parts. In a nutshell, maintenance enables us to assess an AC system and make recommendations — in addition to performing tasks that will increase the useful lifespan of this expensive and intricate system.
Benefits of AC Maintenance
Does Regular Maintenace Really Help?
All the major A/C manufacturers emphasize the importance of maintenance. In fact, they require customers to have it performed by a professional every year to keep the warranties on their new systems valid. Here are some other benefits of AC maintenance:
Superior Energy Efficiency
A major part of AC system maintenance includes the inspection and cleaning of the unit's fan blades, cooling coils, and of other parts of the system that influence its efficiency. Having clean coils, your system is better able to provide cooler temperatures which reduces energy consumption. This means lower energy costs while allowing your system to sustain cooler comfort inside as the temperatures outside continue to rise.
Prolongs Lifespan of Your Home Cooling Equipment
Staying consistent with proper maintenance allows your system to sustain optimal efficiency while amplifying its lifespan. This is hugely beneficial because here in the Fairfield, Franklin and Licking County areas, AC systems endure both freezing cold winters and hot humid summers. 
Superior Comfort Levels
The subsequent enhancement of your system empowers it to perform at its best, providing you with continuously enhanced comfort from the heat.
Promotes Superior Indoor Air Quality
We clean out trapped particles that collect within the AC system ‒ things like dust, dirt, pet dander, and grime. If this sort of stuff is left in there, it eventually travels into your ductwork where it builds up and circulates throughout your home in the air you, your loved ones, and guests breathe.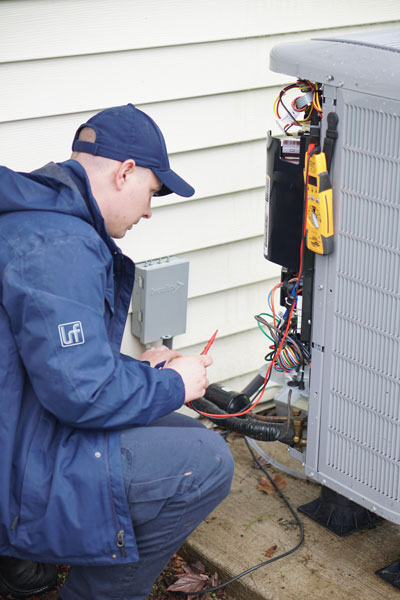 We Service All HVAC Brands
The technicians at LRF Maintenance are NATE-Certified and highly-skilled, with over 45 years of hands-on industry experience. Over time, we've discovered that there's not a single HVAC manufacturer that we can't service! No matter the age, make or model of your heating or cooling system, rest assured we can repair, service, or replace your system swiftly and hassle-free. We're confident in our skills, so you should be too.
Get the Ball Rolling. Schedule Today!
We believe we have made scheduling air conditioner maintenance as quick and convenient as possible. To make matters even more convenient, we schedule visits in three-hour block windows and have our service technicians call each customer when they are on their way with an ETA. So if you want to get the process started now, click here to schedule online, or call us at (614) 837-4822. We'll get your cooling system tuned-up in no time!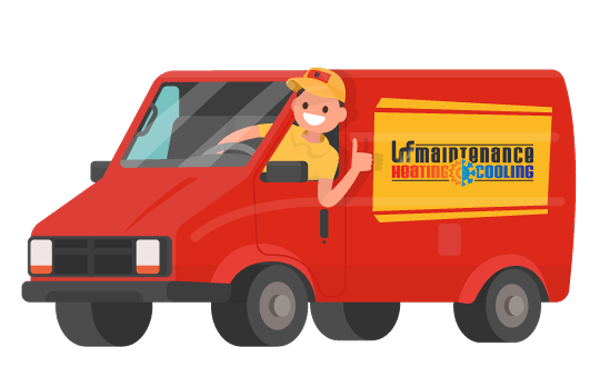 Need Emergency Services?
At LRF, we're committed to customer satisfaction. That's why we're available on nights, weekends, and even holidays for emergency repairs.