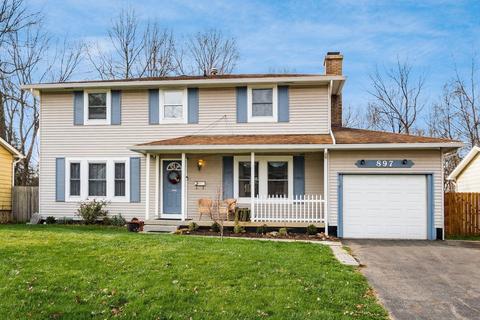 LRF Maintenance Proudly Services
Brice, OH
Our team here at LRF Maintenance, Heating & Cooling is happy to offer the people of Brice, Ohio, the best local Heating, Cooling, and Indoor Air Quality products and services at the most competitive prices in the local market. We've been in this business since 1975, earning the trust of countless central Ohio area homeowners to become a distinguished local HVAC company built on family values.
We offer same-day emergency HVAC repairs as well year-round (including weekends and holidays). We always offer online deals and financing options. Choose LRF Maintenance for your next HVAC service call in Brice, OH!
Getting to Know
Brice, OH
With a population of around 120 residents, the Village of Brice is located in Franklin County on the southeast side of the Columbus Metro Area. The population was 114 at the 2010 census.
Of historical notability, the village theme is "An Early American Village."
Premium HVAC Repair, Maintenance and Installation in Brice, OH
Looking for HVAC services in Brice, OH? Choose LRF Maintenance! Day in and day out, our HVAC service vehicles arrive as scheduled, calling ahead to let each customer know we're on our way; our vehicles stay fully furnished with the latest HVAC (heating and air) equipment and the latest in technology. We carry a wide range of HVAC system filters, furnace filters, central air filters, HEPA filters and more. We carry the latest technology in thermostats, smart thermostats and programmable thermostats, which are popular upgrades that pay for themselves quickly. Smart thermostats are extra convenient and smart home friendly and WiFi friendly, and accessible from your smartphone. Make your Brice, OH home more comfortable with a humidifier installation from LRF Maintenance!
In addition to air conditioning repair and furnace repair, or heating and cooling services, we work on ductless heating and cooling systems, mini-split systems, zoned heating and cooling systems.
We are your local family heating and cooling company, and we can fix central heating and cooling systems around the clock here in Brice, OH.
So if you're asking questions like "why is my AC blowing warm air?" or "why is my ac not turning on?" or "why isn't my furnace working properly?" or "what's wrong with my HVAC system?" or "what's the best HVAC company in Brice?" or "why is my ac or furnace making strange noises?" or "why does my ac or furnace smell strange?" or "why doesn't my furnace warm my home like it used to?" or any other questions related to an HVAC system, we would be more than happy to come to your home promptly and get you back to breathing easy in superior comfort with peace of mind.